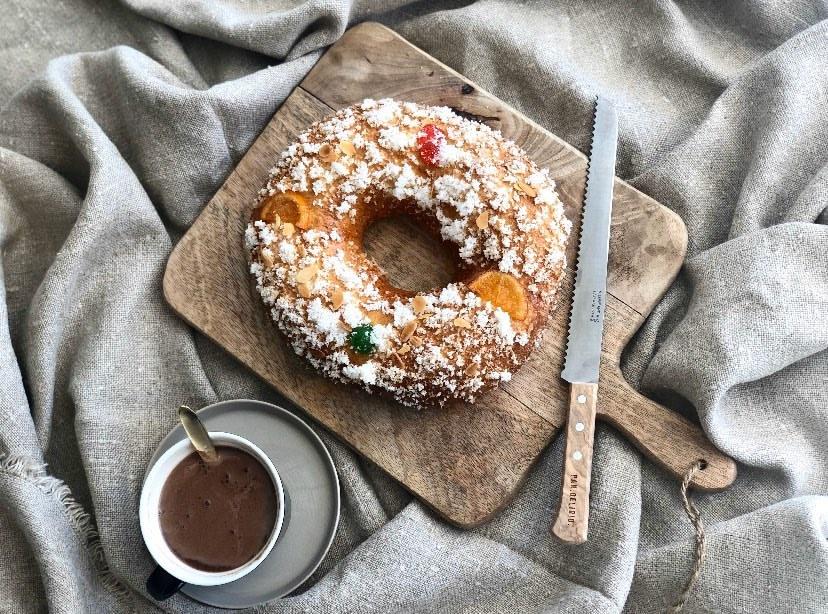 Roscón de Reyes 
If you happen to visit Spain around November to January, you will see this ring-shaped dessert in almost all the pastry shops. Roscón de Reyes is an integral part of the Christmas custom for every Spanish family, and has a unique tradition.
What is it? Where does it come from?
Roscón de Reyes is a type of sweet bread, almost like a brioche, that is baked into a circle or oval shape, topped with candied fruits and almonds, which make it look like a king's crown. 
In addition to Christmas day, December 25th, the Spanish also celebrate the 6th of January (Epiphany), when The Three Kings or Three Wise Men visited Jesus after his birth to give him presents and praise him. While Roscón refers to the sweet bread itself, Reyes refers to The Three Kings of the Epiphany.
Quite surprisingly, The Three Kings are believed to have nothing to do with the origin of the dessert despite what the name suggests. The history of this traditional bread dates back to centuries ago. It is actually said to originate from a Pagan tradition of Romans celebrating Saturn, and was later adopted by Christians. Some even say that it is the first doughnut in history. 
What is unique about it?  
What is quite interesting about Roscón de Reyes is that traditionally they place a bean (haba) and a ceramic or plastic figure that represents a king inside the dough. The one who finds the bean is supposed to pay the Roscón while the one who finds the figure is proclaimed the king of the fiesta, at least for a day!
Where do we eat it?
In winter, from November to January, almost all patisseries serve Roscón de Reyes. But our absolute favourite is the one from Pan Delirio in Madrid, which has won the award for the Best Roscón de Reyes in Madrid. 
Pan Delirio is an artisan obrador (bakery) run by father and son who share the same passion for baking the most authentic, honest, and healthy bread. 
So, if you happen to be in Spain around Christmas time, you should give Roscón de Reyes a try. Who knows, maybe you'll get to be the King for a day? 
Read: 5 Bizarre-Looking Spanish Food That are Absolutely Delicious
---
You might also like
---
---